Affinity measurement
The Octet analysis system is a fast and accurate measure of antibody binding affinity (KD). Eight samples can be analyzed at the same time, easy sorting of antibodies by K-off ranking, and accurate measurement of antibody affinity change during humanization and affinity maturation.

Octet analysis can measure binding affinity between antibody and antigen as well as binding affinity between ligand and receptor. It is also used for antibody characterization such as epitope binning.

Octet analysis is based on BioLayer Interferometry (BLI) technology, which uses the difference in length of the white light wavelengths reflected from the internal reference layer and the two surfaces of the immobilized protein layer.

Features
Short running time
Measurable in lysate form
Multiple concentrations can be measured simultaneously
Reusable sample
Ability to monitor data in real time
Customer Preparation
Antibody

- Required amount: 100ug
- Purity: more than 90%
- Concentration: 1 mg / ml

Antigen

- Amount needed: 100 ug
- Monomeric protein
- Purity: more than 90%
- Size: over 5kDa
- Concentration: 1 mg/ml
- Antibody and antigen response
AbClon provided
Applications
Kinetic characterization
Protein-Protein interaction
Antibody binder screening
Epitope binning
Affinity maturation
Assay development
Flow & Graph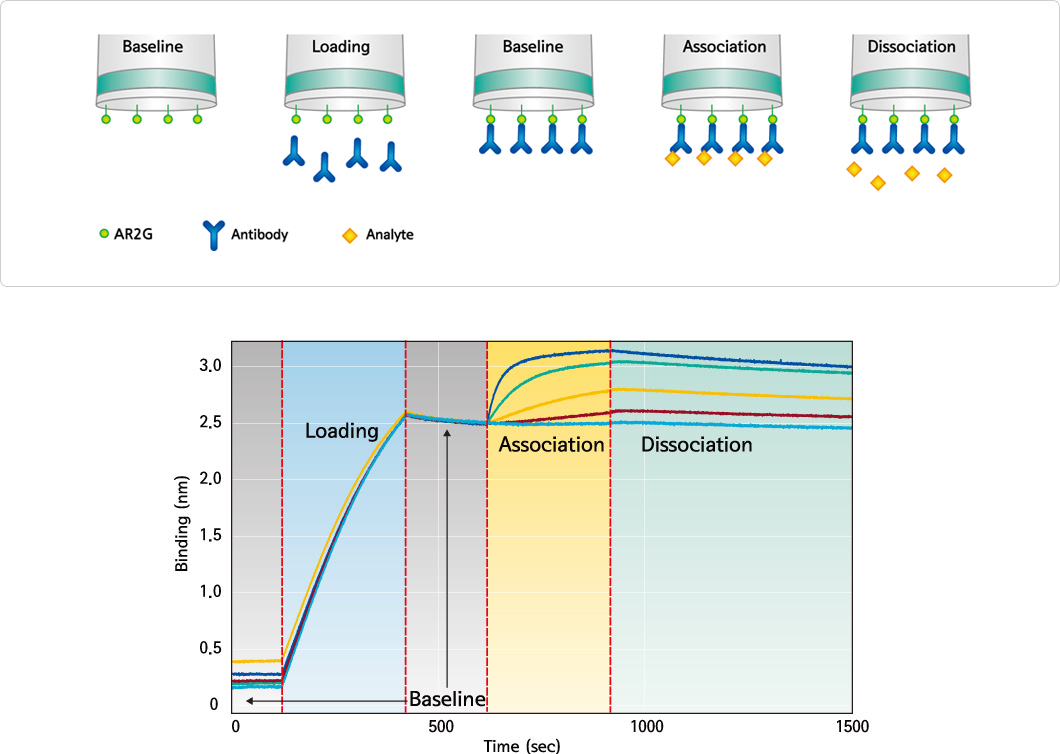 Antibody Conjugation
AbClon is conjugating the antibody so that it can be used in various fields.
Conjugation
HRP Conjugation
FITC Conjugation
Biotin Conjugation
PE Conjugation
Antibody-Resin Conjugation